I have been faced with this issue several times as a parent, and  I found this article by donotdepart.com to be helpful.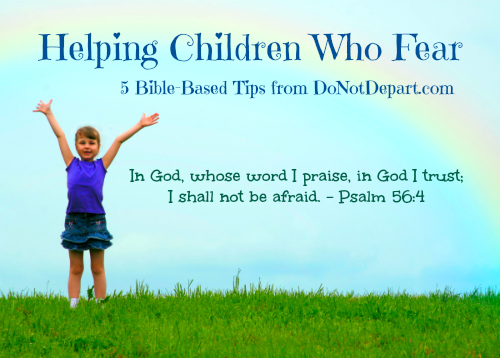 It's hard to be little. The world can be a scary place even when all seems well to the adults. And lately even most adults I know do not feel like all is well.
It is so important that we take a Word-based approach when our children fear, because a world-based approach will always disappoint. It would be lying to tell my child that there is nothing to fear. From a purely worldly perspective, my kids' lives are fraught with dangers, many of which we don't even contemplate (driven a car lately?)
But I can tell my child not to fear because of who he is in Christ. Because of Who God is. The power of scripture to combat fear is supernatural. God's Word is the sword of the Spirit!
Here is some scripture that we can teach our kids about fear:
"In God, whose word I praise, in God I trust; I shall not be afraid." Psalm 56:4
"When anxiety was great within me, your consolation brought me joy. Psalm 94:19 (niv)
"Peace I leave with you; my peace I give to you. Not as the world gives do I give to you. Let not your hearts be troubled, neither let them be afraid." John 14:27
"I have said these things to you, that in me you may have peace. In the world you will have tribulation. But take heart; I have overcome the world." John 16:33
"…do not be anxious about anything, but in everything by prayer and supplication with thanksgiving let your requests be made known to God. And the peace of God, which surpasses all understanding, will guard your hearts and your minds in Christ Jesus." Philippians 4:6-7
"…for God gave us a spirit not of fear but of power and love and self-control." 2 Timothy 1:7
"…casting all your anxieties on him, because he cares for you." 1 Peter 5:7
Five Word-based ideas for when your child is afraid.
1) Teach children to praise God
Praising God in every circumstance instantly turns our attention off of ourselves and our fears, and onto the only solid and reliable One upon whom we can count. Praise God for Who He is, and for how much He loves us!
"Through (Jesus) then let us continually offer up a sacrifice of praise to God, that is, the fruit of lips that acknowledge his name." Hebrews 13:15
2) Play scripture out loud
When there is a chronic fear hanging heavy in your home, filling the air with scripture can work wonders for restoring peace. Even now I sometimes find myself needing to bathe my mind in scripture as I fall asleep.
Audio bibles are easy to come by thanks to smart phones (both for iPhone and android.) If you don't have a smart phone, you can buy an audio bible on CD or on mp3.
"Peace I leave with you; my peace I give to you. Not as the world gives do I give to you. Let not your hearts be troubled, neither let them be afraid." John 14:27
3) Help children memorize scriptures
The bible directs us to teach our children the scriptures!
"And these words that I command you today shall be on your heart. You shall teach them diligently to your children, and shall talk of them when you sit in your house, and when you walk by the way, and when you lie down, and when you rise." Deuteronomy 6:6-7
You can teach your children some of the specific verses related to fear listed above, but even having basic verses memorized will be a powerful tool in their arsenal against fear! Our summer Hide His Word challenge will be reviewing basic scriptures for believers. If you or your children have never memorized before, why not sign up and start hiding His Word in your heart this summer?
It's important to understand that the Word of God is the only offensive piece of our spiritual armor, the rest is defensive. The Word is even called the sword of the Spirit. Our children need to know and be ready to wield this holy sword!
"For the word of God is living and active, sharper than any two-edged sword, piercing to the division of soul and of spirit, of joints and of marrow, and discerning the thoughts and intentions of the heart." Hebrews 4:12
4) Post scriptures around the house
The bathroom mirror and the kitchen windowsill seem to be our two favorite places to post scripture. We spend a lot of time at sinks, apparently! You can put up verses applicable to your child's current struggle, or a general verse. Try taping printed scripture to the mirror, or for fun, write the verse directly on the mirror with a dry-erase or wet-erase marker!
There are also many beautiful, scripture-based home decorations available.
"You shall write them on the doorposts of your house and on your gates." Deuteronomy 6:9
5) Sing scripture songs that deal with fear and courage
Music makes such an impact on kids. On adults too! More than once a scripture has wafted in song out of the car speaker right into this weary mama's heart and given me strength!
Oh come, let us sing to the Lord; let us make a joyful noise to the rock of our salvation! Psalm 95:1
The Seeds Family Worship songs are great. There is lots of other recorded scripture music for kids available. And many old hymns are scripturally based.
If you don't know a song for the verse you want your children to memorize, use a familiar kids' tune! Julie explains how in "Truth for Kids to Tunes We Know"
However you go about it, helping your kids stay in God's Word will combat fears of all sizes!
This article was written by and can be found in full at http://donotdepart.com/helping-children-who-fear-5-bible-based-tips
What are some ways you teach your kids to show love?
This month is the perfect month to share with your children different ways to show love. Focus on the Family posted these great tips, on how to show love.
Love Notes
When my children were little, I'd have them make Valentine's Day cards out of paper and craft supplies. Then we'd mail them to those who might be overlooked — widows and widowers who were facing their first Valentine's Day without their spouse, or friends who had recently endured a rough divorce. Then all year, whenever my children complained that they were bored, I'd have them make similar cards that we'd send as encouragement to missionaries.
Cindi Ferrini
Love in Action
During February, my family looks for "love acts." When I see my 4-year-old do something well, I say, "Wesley, you obeyed the first time I asked. When we obey God the first time, that shows Him we love Him. Way to go!" This helps Wesley hear the connection between loving God and obeying Him.
These love acts can also be done toward each other. For example, I explain to my kids that doing chores demonstrates love for the rest of the family. When we describe love in actions, we help our children begin to understand how real love is shown through more than just our words.
Lauren Osborne
Special Delivery
My husband and I purchased a small mailbox for Valentine's Day. Each morning in February, we placed a note and a small treat in it for our son. Grammie and Grandpa were even able to get in on it and contributed a note, as well. Our son loved it! He jumped out of bed to see what was in his mailbox each day. Our notes, which often included Bible verses, told him how much we loved him, but also how much God loved him and how special God made him. (You can make your own mailbox and notes for your children in this download.)
Amber Pike
Show Love to Others
To help our children, ages 7 and 4, understand that all people are valuable, especially in God's eyes, I planned a simple event for our family. We began with "Love Bingo" — using homemade bingo cards with a characteristic of love (as described in 1 Corinthians 13) written into each block. I called out the characteristics and my husband helped the girls mark their cards. I took time to explain how God loves us and expects us to love others and treat them with dignity.
After our game, we prayed that God would make us aware of a need so we could show His love to someone. We noticed a homeless gentleman on our way to buy pizza. After we ordered what we needed, we purchased a pizza and drink for him. My oldest daughter wrote "God loves you" on the box before my husband handed over the food.
Though our gesture didn't significantly alter this man's plight, it did help our young daughters understand that God desires for us to share what we have with others.
Print out Love Bingo cards and calling cards to use with your kids.
Cookie Cawthon
A New Focus for Valentine's Day
Valentine's Day is all about romantic love and celebrating with your "special someone." But as our daughter gets older, we want to help her focus less on the boy in the third row at school and more on the long-lasting relationships in her life that show her she is accepted and special.
So we've made it a Valentine's Day tradition to create and deliver gift boxes filled with chocolate-covered strawberries.
As we hand-dip the strawberries, we talk about the important friendships in our lives and the joy we get from giving love to others. Later, we personally deliver the treats to close family friends. This fun tradition gives our daughter a sense of belonging among a community whose love lasts long past the February holiday.
Janna Jones
Creative Valentine Cards for Kids
For Valentine's Day, I helped my kids use candy hearts to create personalized messages for classmates, friends and loved ones. We cut red and pink paper hearts, glued on candy conversation hearts, then added words to make more meaningful and age-appropriate messages. Here are a few:
I LOVE YOUr heart for God!
I have JUST ONE thing to say: Jesus loves you!
It's SO COOL that God gave me you as a friend!
I DARE YA to sit by me at lunch! I'll make a spot for you.
I'M SURE glad you are my little sister!
Shannon Popkin
Courtney Taylor
View the entire article by clicking here.